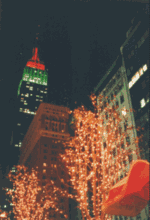 Empire State Building
Fifth Ave at 34th St
Christmas colors
go on at dusk
starting Dec 1.
World's Largest Menorah
Grand Army Plaza, 59th Street and Fifth Avenue, (718) 778-6000
Lit each night of Chanukkah
Menorah on Indian Row
6th St btwn 1st and 2nd Ave, (212) 683-9004

Giant Snowflake
at the corner of 57th and Fifth
Holiday Lights
Bronx Zoo, (718) 367-1010
Bronx Zoo Holiday Lights sparkle once again with more than 140 illuminated, bedazzling sculptures plus snowflakes, star bursts, over eight miles of tree lighting, and more than two miles of architectural lighting.
Walking In a Winter Wonderland
At South Street Seaport, (212)SEA-PORT
As New York prepares to ring in the New Year, South Street Seaport will become a sparkling winter wonderland in the midst of all the frantic preparations. By mid-November, the Seaport will shine over downtown with brilliant white lights and festive music. Travelling choruses and choirs will grace the various stages with songs from around the world.