2001 Rockefeller Tree Lighting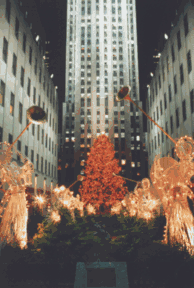 The Rockefeller Center Tree, at 50th Street and 5th Avenue, is a spectacular mountain of branches covered with around 5 miles of lights. The Tree is picked out every year by helicopter search, then cut down and brought to its new home at Rockerfeller Center in early November.
The lit Tree will be on view daily through January 3rd from 5:30am to 11:30pm, all day on Christmas, and from 5:30am to 9pm on New Year's Eve. If you stop by, you can expect to find two rows of magnificently lit angels sounding their trumpets, as well as giant tin soldiers flanking the skating rink below.
The entire neighborhood around Rockefeller Center is beautifully decorated for Christmas. Check out our holiday shops page for more information, or just leave a little time to wander up Fifth Avenue soaking it all in. The NBC studios, located just a stone's throw away from the Tree, feature glass walls for visitors to peak in on the live broadcasts. For more information on events at the rink, call (212) 332-7654.