<< museums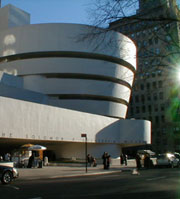 Address & Phone
Solomon R. Guggenheim Museum
Hours
Sun-Wed, 9am-6pm
Fri-Sat, 9am-8pm
Thurs, Closed


Admission
Adults $12
Student/seniors $7
Children under 12 FREE
Members FREE

A CityPass booklet includes tickets to New York's most famous sites for 50% off of the box office price.

The Guggenheim Store offers beautiful, sleek accessories and books.

Solomon R. Guggenheim Museum
Frank Lloyd Wright architected this building, now designated the youngest New York City landmark. As you walk the spiral walkway toward the dome above, you will view works from artists of the 19th and 20th century including: Brancusi, Braque, Calder, Chagall, Robert Delaunay, Giacometti, Kandinsky, Klee, Leger, Miro, Picasso, and Van Gogh.
At the Museum
by Jason Wiggins
The Guggenheim Museum, located on a section of Fifth Avenue known as Museum Mile, is housed in one of the most unique buildings in New York City. Designed by Frank Lloyd Wright, the museum is shaped roughly like a teacup or an upside down terraced hill. It is not unusual to see adults with their children here, going up and down the spiraling ramp.
Exploring the Guggenheim is extremely enjoyable, but a floor plan is a necessity. The amount of artwork on display is significant, so much so that a visitor might feel a kind of art overload, which is why the museum offers self guided audio tours and group tours for interested visitors.
Expect to spend at least half a day going through the galleries and exploring the building. Try to head here early and avoid the weekends when the museum gets extremely crowded.