Bergdorf Goodman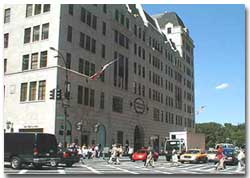 About this store:
Bergdorf Goodman offers a wide selection of furs and clothing for both men and women. They cater to a generally conservative and very sophisticated clientele. Located in the heart of the midtown tourist and shopping district, the store is a block away from the Trump Tower shopping center and the world famous Plaza Hotel.
Website
Address & Phone:
754 5th Avenue (58th Street)
(212) 753-7300

Hours:
Through December 23: Monday-Saturday 10-8. Sunday 11-6
December 24: 10-5. December 25: CLOSED.
December 26: 10-8. December 27: 11-6.
December 28-30: Regular Store Hours.
December 31: 10-6. January 1: 12-6.