New Yorker's Guides

Romantic New York City
by William King, Jimmy Hahn

A guide to the most romantic clubs, restaurants, bars and hotels in New York City.



How to Live the Good Life in New York
by Tory Baker Masters, Kathy Mayer Braddock
"The Intrepid New Yorkers are back with a lifetime's worth of trade secrets in the form of insider tips and qualified resources, covering every aspect of life in the big city."



Frommer's Irreverent Guide to Manhattan (3rd Ed.)
by Ian McMahan
"For readers who are tired of the promotional fluff and brochure-speak that characterize most travel guides."



NYC for Free (2nd Ed.)
by Christopher Sulavik

Free things can be hard to find, and this guide has a lot to offer someone on a budget.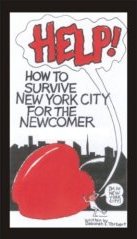 Newcomer's Handbook for New York City (18th Ed.)
by Belden Merims (Editor)
This guide is designed to help smooth out the transition from newbie to native New Yorker.



If You're Thinking of Living in...All About 115 Great Neighborhoods in and Around New York
by Michael J. Leahy
Compiled from the regular column in the New York Times, this guide is a little outdated, but a good introduction to many different communities in and around New York City.



Native's Guide to New York: Advice With Attitude for People Who Live Here-And Visitors We Like
by Richard Laermer

"A highly opinionated guide to all the greatest things to do in New York."



Manhattan User's Guide: The Guide to New York for New Yorkers
by Charles A. Suisman, Carol Molesworth
An all-around guide to New York City resources. Throw away your phone book and use this instead.



Moving to New York City: The Practical Companion to Your New City, from Settling in to Stepping Out
by Candace Walsh
Information on everything from finding a place to live to getting around and settling in.