Special Features and Articles on New York
Special Features and Articles on New York

All Aboard: OPSAIL 2000
If you didn't have time to see the Opsail 2000 ships while they were in town, you can now visit them online at our virtual photo gallery. Digital photography by Sam David.

2000 Village Halloween Parade
If you didn't hit the streets for the Village Halloween Parade, you can check out the costumes and chaos online at our new Halloween Parade Photo Gallery. Digital photography by Sam David.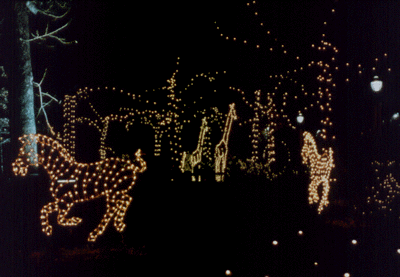 Winter Wonderland: Holiday Season in NYC
New York loves to dress up for the holidays with Christmas trees cropping up citywide and stores decorated from top to bottom, inside and out. If you don't want to brave the chilly weather, check out our Holiday Photo Gallery.
HISTORY OF NYC NEIGHBORHOODS
written by Sarah Waxman.
New York City's Chinatown, a tightly-packed yet sprawling neighborhood which continues to grow rapidly, is the largest Chinatown in the United States and the site of the largest concentration of Chinese in the western hemisphere!
Home to such venerable New York landmarks as Lincoln Center, Columbia University, St. John the Divine Cathedral, the Dakota Apartments, and Zabar's food emporium, the Upper West Side has a rich and interesting history.
New York's Central Park is the first urban landscaped park in the United States. Read on to find out more about the history and development of this New York treasure.
Related Guides
NEWS ARCHIVE
NYC HUMOR