Wollman Ice Rink
Website
http://www.wollmanskatingrink.com/
Address & Phone
Central Park near East 64th Street
New York, NY
P: (212) 439-6900
Hours
October through April
Mon, Tues 10am-3pm
Wed, Thu 10am-10pm
Fri-Sat 10am-11pm
Sun 10am-9pm
Wollman Ice Rink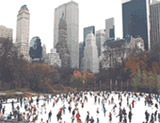 Located in scenic Central Park, Wollman Rink offers ice skating in the winter and inline skating in the summer! Once you get the hang of inline skating in the rink, you can rent rollerblades for exploring the park.
The rink will open on November 12th, 2001.
Pricing:
October through April
$7.50 for adults ($8 on weekends)
$3.75 for seniors and children under 12
$3.75 skate rental
- Reviews of Wollman Ice Rink
loading..