New York City Ice Skating Guide
New York City Ice Skating Guide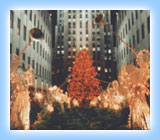 Amidst the hustle and bustle of skyscrapers and crowded streets, New York provides a surprising number of places to ice skate. From Ice Hockey to Figure Skating, everyone in New York has the opportunity to lace up an old pair of skates, and hit the ice! SkyRink at Chelsea Piers is open year round.
During the holidays, the Rockefeller Center Tree is a spectacular mountain of branches and lights.
This year's tree lighting ceremony is on November 30th. more...
NYC Skating Rinks:
All numbers listed are in the (212) area code unless otherwise indicated.
Lasker Rink 106 St & East Drive & Central, 534-7639
Rockefeller Center Rink 50th St and Fifth Avenue, 332-7654
SkyRink Chelsea Piers, Pier 61, Hudson River and 17th St, 336-6100
Wollman Rink Central Park near 64th Street, 439-6900

The Rink at Winter Village 1065 Avenue of the Americas Suite 2400 New York, NY 10018

Free Skating at The Rink
The Rink is the centerpiece of Bank of America Winter Village at Bryant Park. The 170' x 100' rink features free admission ice skating, in addition to high quality rental skates, skating shows, special events, and activities.

The Standard Ice Rink HIGH LINE, NYC 848 WASHINGTON ST, NEW YORK, NY 10014 (212) 645-4646


Blades sharp, laces tight, cider spiked—The Rink is back and better than ever.

City Ice Pavilion (718) 706-6667 47-32 32nd Place Long Island City, NY 11101

Sign up today to participate in our Winter Show
Solos, duets, and teams may participate for free. Our LTS students are welcomed to join a group number, with several rehearsals (10/30 deadline).

Abe Stark Rink Boardwalk and West 19th Street, NY 11224

Tickets:
Adults: $9.00
Seniors (60 & older): $9.00
Children (12 & under): $9.00
Skate Rental: $5.00

The Abe Stark Rink is open for hockey each year from October through March. A favorite of schools, leagues and community members of all ages, this rink, which opened in 1970, offers private skating classes as well as public sessions.

World Ice Arena Flushing, NY 11368 Phone: (718) 760-9001

World Ice Arena : Flushing Meadows Corona Park

October 10th: Columbus Day Public Skate (Holiday rates apply)
October 15th: Annual Autumn Open Competition (view schedule)
October 22nd: Try Hockey for Free
October 29th: Learn-to-Skate Session 2 begins
October 30th: Halloween Party on Public Skate

Trump Lasker Rink 830 5th Avenue, New York, NY 10065-7001 (917) 492-3856

Monday - Thrusday: 10:00 AM-4:00 PM, Friday: 10:00 AM-4:50 PM & 6:00 PM-11:00 PM, Saturday: 1:00PM-11:00 PM, Sunday: 12:30 PM-4:30 PM

The rink will open for the season on Saturday October 29th, weather permitting.

LeFrak Center at Lakeside Prospect Park Alliance, 95 Prospect Park West, Brooklyn, NY 11215 (718) 965-8951

Opens : Oct 28, 2016 from Mon-Thurs: 9am - 5:15pm, Fri: 9am - 9pm, Sat: 11:30am - 9pm, Sun: 11:30am - 5:15pm Tickets Price : $6 on weekdays, $9 weekends + holidays

Lakeside is the largest and most ambitious project in Prospect Park since its creation nearly 150 years ago. Spanning 26 acres, this $74 million restoration by the Prospect Park Alliance transforms the southeast corner of the Park into a popular scenic and recreational destination.