Guggenheim Museum Soho
Website
http://www.guggenheim.org/
Address & Phone
1071 5th Ave
New York, NY 10012
P: (212) 423-3500
Hours
Museum Hours
Open Sun-Wed, Fri 10 am-5:45 pm and Sat 10 am-7:45 pm
Admission
Admission
Adults $25
Students and Seniors (65 years +) with valid ID $18
Children under 12 Free
Members Free
Guggenheim Museum Soho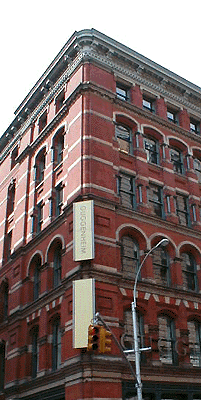 The Guggenheim Museum SoHo first opened to the public in June 1992. It was designed by distinguished architect Arata Isozaki. The museum has hosted several noteworthy exhibitions, including the work of Bill Viola, Paul Klee, Robert Rauschenberg and Marc Chagall.
At the Museum
by Jason Wiggins
Guggenheim Museum Soho, located in an ornate brick building on the corner of Broadway and Prince St. isn't what someone visiting it for the first time might expect. Despite the famous name, the Guggenheim Soho is very small; the first floor has been completely taken over by stores, with the museum itself taking up only one floor of the building.
The gallery on the second floor is an open space with large windows letting in lots of sunlight. The interior design is in the same fancy style as the brick exterior, with a marble walled entrance, wood paneled elevators and gilded columns. Since admission is free, anyone can walk in off the street and not feel out of place or underdressed.
The permanent exhibit is Andy Warhol's series of paintings, The Last Supper. It's the type of modern art that's difficult for an ordinary person to appreciate, but a curious tourist would probably enjoy a quick hour or two visit.
- Reviews of Guggenheim Museum Soho
loading..