Japan Society Gallery
Website
http://www.japansociety.org/
Address & Phone
333 East 47th Street
New York, NY
P: (212) 715-1258
Hours
Hours
Monday—Friday, 11 AM—7 PM
Select Weekends, 11 AM—5 PM
Admission
Admission
$12; students & seniors $10; Japan Society members and children under 16 free.
Admission is free to all on Friday nights, 6pm-9pm.
Japan Society Gallery
Japan Society Gallery is among the premier institutions in the U.S. for the exhibition of Japanese art.
Extending in scope from prehistory to the present, the Gallery's exhibitions have covered topics as diverse as classical Buddhist sculpture and calligraphy, contemporary photography and ceramics, samurai swords, export porcelain, and masterpieces of painting from the thirteenth to the twenty-first century. Each exhibition, with its related catalogue and public programs, is a unique cultural event that illuminates familiar and unfamiliar fields of art.
Founded in 1907, Japan Society is the leading U.S. organization committed to deepening mutual understanding between the United States and Japan in a global context. Now in its second century, the Society serves audiences across the United States and abroad with more than 100 events each year, through innovative programs in arts and culture, public policy, business, language and education.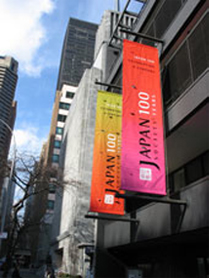 - Reviews of Japan Society Gallery
loading..