Museum of Jewish Heritage
Website
http://www.mjhnyc.org/
Address & Phone
Edmond J. Safra Plaza
36 Battery Place
New York, NY 10280
P: (646) 437-4202
Hours
Hours & Admission
Please see website for details (which change seasonally)
Museum of Jewish Heritage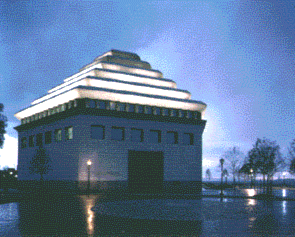 "The Museum of Jewish Heritage -- Living Memorial to the Holocaust opened to the public in September 1997. Its mission is to educate people of all ages and backgrounds about the 20th century Jewish experience before, during, and after the Holocaust."
At the Museum
by Jason Wiggins
The Museum of Jewish Heritage is down in Battery Park City close to the National Museum of the American Indian. The museum stands at the center of a flower garden that looks beautiful when everything is in bloom. Inside, the galleries wind around like a maze, but it's not so complicated that you could get lost, just keep moving forward and up an you'll be fine. The top floor has a great view of New York harbor with the Statue of Liberty and Ellis Island.
The Jewish Museum covers the entire history of Judaism from five thousand years ago to the present, while the Museum of Jewish Heritage focuses on the nineteenth and twentieth centuries. This museum displays artifacts related to just about every aspect of Jewish history and culture including books, clothes, artwork and religious objects. Short educational films play at several locations in the museum. One entire floor is devoted to the Holocaust, which makes visiting this museum an emotionally intense and disturbing experience.
The museum has three floors and lots of exhibits, so expect to spend about three or four hours here in order to see and read everything.
All information reprinted with permission from The Museum of Jewish Heritage.
- Reviews of Museum of Jewish Heritage
loading..