New Museum of Contemporary Art
Website
http://www.newmuseum.org/
Address & Phone
235 Bowery
New York, NY
P: (212) 219-1222
Hours
Hours
Tuesday & Wednesday 11 a.m.–6 p.m
Thursday 11 a.m.–9 p.m
Friday–Sunday 11 a.m.–6 p.m
Admission
Admission
General: $18
Seniors: $15
Students: $12
Members: Free
15–18: Free
14 and under (accompanied by an adult) :Free
New Museum of Contemporary Art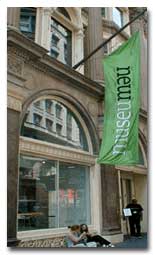 The New Museum of Contemporary Art, founded in 1977, is the premier contemporary art museum in New York City and among the most important internationally. The Museum exhibits innovative contemporary art from around the world, and offers public programs, a unique bookstore, and an extensive web site.
Current and Upcoming Exhibitions
New Museum Bookstore
Since its grand opening in March 1998, the New Museum Bookstore has been a hotbed of activity with shopping, readings, performances, and book signings. Offering the most comprehensive selection of critical and contemporary catalogues, artist monographs, and magazines, it has become the place to relax, browse, read, and catch up with friends downtown.
Constantly expanding its merchandise, the Bookstore is an excellent place to find unique gifts. Jewelry, lamps, quilts, and other cool, artist-designed items for the home, limited editions, and "new" baby jumpers are just some of the great gifts you'll find here.
At the Museum
by Jason Wiggins
The New Museum, down the block from the Guggenheim Soho, is a stone building with intricately carved columns and arches over big, sunny floor to ceiling windows. It blends in perfectly with the rest architecture in the area.
The gallery space is a long narrow room that has been divided up into several smaller cubicle-like spaces. The dividing walls, along with the wide columns that punctuate the gallery, make for an unusual effect. Although individual rooms feel quite small, the number of rooms makes the gallery seem to go on, somewhat like a maze, for a while.
The type of artwork on display at the New Museum is the very unusual, abstract art that is just about impossible for an ordinary person to understand. This museum is geared towards people with a serious interest in contemporary art who have studied it enough to be able to penetrate the odd styles and symbolism used in the art on display. You can see the museum quite well in an hour or two.
An interactive site complementing the New Museum's high school arts program, Visible Knowledge, offers educators and their students worldwide an opportunity to open classrooms and studios online. There are also multicultural and interdisciplinary curriculum units, incorporating N.Y. State Learning Standards, that can be downloaded or discussed online in the forums.
- Reviews of New Museum of Contemporary Art
loading..