At the American Museum of Natural History
Website
http://www.amnh.org/rose/
Address & Phone
Entrance on 81st Street just off of Central Park West
New York, NY
P: (212) 769-5100
At the American Museum of Natural History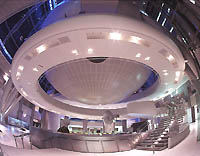 Hayden Sphere
© AMNH/D. Finnin
Visiting Information
Your Passport to the Universe
The new Hayden Sphere, which weighs 4 million pounds and measures 87 feet in diameter, is the largest and most powerful virtual reality simulator in the world. Before entering the upper hemisphere where Passport to the Universe is shown, beautifully rendered videos offer some basic astronomical information. Once inside, a Zeiss Mark IX Star Projector and the Digital Dome System fly you through the biggest data-based model of the universe ever projected. As if there weren't enough stars involved, the center's two shows are narrated by Academy Award winners Tom Hanks and Jodie Foster.
The Space Theater can take 429 people at once on a breathtaking tour of the known universe, rendered as accurately as possible with data from such sources as NASA's Jet Propulsion Laboratories and Hubble Space Telescope. You will be flown through our galaxy, exploring the neighboring planets and watching as a traditional two dimensional constellation is rendered in three dimensions, one star in Orion's belt trailing behind us, one fast approaching ahead. The show even affords a shortcut home, via a free fall headlong through a black hole.
The technology behind the show allows museum experts to weave together data sets from many separate sources, creating unique, three-dimensional digital maps of our galaxy. The Center houses the most sophisticated space projector in the world, the Zeiss Mark IX, and the Digital Dome System, consisting of the latest SGI Onyx 2 computer and a Trimension video display with 7 coordinated Barco 12 foot Cathode Ray Tube high resolution video projectors. As James Sweitzer explains it, "no one, not even astronomers, has ever been able to experience the universe in this way or on such a vast range of scale. For the first time, we can travel through a real, continuous scientific model of the universe ".
The bottom hemisphere contains the Big Bang Theater, which is a much more traditional laser light show. Visitors stand above and around a circular screen with representations of the origin, expansion and cooling of the universe as a clock counts up from the beginning of time and Jodie Foster narrates a less-than-stellar counterpart to the show.
As you leave the Big Bang theater, you will begin a spiraling journey that documents the evolution of the universe. The Harriet and Robert Heilbrunn Cosmic Pathway is a gently sloping walkway which squeezes 13 billion years of cosmic evolution into the length of a football field, about 3 million years per inch. Visitors of all ages can measure how many years a single stride encompasses. Along the way, a photographic record of our cosmic history unfolds; we see these astronomical objects not as they are now, but as they were billions of years ago when their light first began it's journey towards Earth. The first few panels have been left blank in anticipation of future discoveries dating back even earlier.
- Reviews of At the American Museum of Natural History
loading..