At the American Museum of Natural History
Website
http://www.amnh.org/rose/
Address & Phone
Entrance on 81st Street just off of Central Park West
New York, NY
P: (212) 769-5100
At the American Museum of Natural History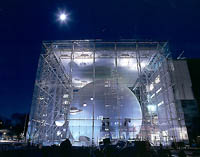 The Rose Center by Night
© AMNH/D. Finnin
Visiting Information
The New North Side
James Stewart Polshek, the architect who designed the new Rose Center, wanted to create a cosmic cathedral, "an intensely memorable spatial experience that is intended to awe and inspire visitors and to expand their understanding of the wonders of the universe and the power of scientific inquiry". Scientific precision and great attention to detail have allowed the Hayden Sphere to float so effortlessly inside this incredibly clear glass cube; whether you choose to marvel at the simple geometric beauty or the feats of engineering is up to you.
The Rose Center's curtain wall is the largest suspended glass curtain wall in the US, with almost an acre of astoundingly clear Pilkington water white glass held together with two and a half miles of rod rigging and 1,400 steel spiders. The Hayden Sphere, which weighs four million pounds and is 87 feet in diameter, is supported by three pairs of inclined columns that are intended to disappear, creating the illusion that the sphere is suspended in the middle of the open space. The black floors twinkle with embedded Czechoslovakian glass shards and even the elevators have glass doors.
Last summer, the museum completed an acre of public space, the Arthur Ross Terrace, adjacent to the Rose Center to "unify the historic, traditional appearance and function of the museum with the gleaming materials and modern design of the Rose Center". Designed by landscape architect and environmental artist Kathryn Gustafson and based on the concept of a lunar eclipse, the terrace includes water jets, fiber optic light, and nooks with benches. The terrace is landscaped with a double row of Pagoda trees that will eventually form a tunnel, a misting of Mountain Laurel including cultivars named Star Cluster, Comet, Shooting Star and Galaxy, and Gingko Trees, the only species of a family of trees from the Earth's Carboniferous Period (over 290 million years ago).
The new center also offers much-needed visitor amenities and services including a three-story parking garage, two floors of which are below ground providing a covered bus unloading area for schoolchildren, new restaurant facilities, public walkways, an entrance on Columbus Avenue and beautiful subway stations on Central Park West.
- Reviews of At the American Museum of Natural History
loading..