Museum for African Art
Address & Phone
593 Broadway
btw. Houston and Prince
New York, NY 10012
P: (212) 966-1432
Hours
Hours
Tues-Fri 10:30am-5:30pm
Sat-Sun noon-6pm
Closed Mon
Admission
Admission
General $5.00
Seniors/children/students $2.50
Open to school groups by appointment

Store
"The Museum Store features crafts from Africa in a wide range of media: cloth, metal, wood, ceramic, straw, leather, gourd, and even plastic. They emphasize the continued vitality and creativity of African design and how well it suits the taste and the style of life."
Museum for African Art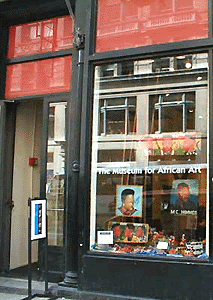 "The Museum for African Art is dedicated to increasing public understanding and appreciation of African art and culture. Recognized worldwide as the pre-eminent organizer of exhibitions and publishers of books devoted exclusively to historical and contemporary African art."
Current and Upcoming Exhibitions
At the Museum
by Jason Wiggins
The Museum for African Art , located in a building that looks rather plain in comparison to its neighbors the Guggenheim Soho and the New Museum, has more to offer than you might expect. You enter the museum through the store, which can be a little confusing.
There are two floors of galleries in the museum divided up into several rooms. Even though the space is narrow, it is fairly long, and contains a substantial collection of artifacts. The lighting creates eerie shadows of the pieces on the white walls in the upstairs gallery. The exhibits here offer large amounts of information about the cultural significance of the objects on display.
This museum would appeal greatly to anyone with an interest in African culture. Visitors should plan to stay for several hours to fully enjoy all the related information the museum provides about its pieces.
- Reviews of Museum for African Art
loading..